Hybridity, Identity and Micro-cosmopolitanism in the Ionian 19th century
Über dieses Buch
The Ionian Islands, a complex of seven islands off the west coast of the Greek peninsula, historically and culturally constitute a contact zone between the Greek-speaking world and the West. In the 19th century, the islands, a former Venetian colony, experienced French and British colonial power before their incorporation in 1864 to the Greek state. This study focuses on the process of transformation of hybrid, cosmopolitan pre-national cultural identities into national schemes of appropriation and affiliation. Here, cultural agents, networking across linguistic, cultural, confessional or other borders, are exemplified by the example of the Lountzis brothers and their special link to the German-speaking world, its philosophy and its poetics. In this study, translation is scrutinised as a field of identity negotiation. It is also understood as a gesture of kinship with larger literary communities in the wider spectrum of the mobility of knowledge and ideas enabled by 19th century mystical sectarianism. The author of this book traces local micro-cosmopolitanism in the form of readership and identity performance, while cosmopolitanism, nationalism and sectarianism are viewed as interacting factors in the transformation of cultural, social and national identities in 19th century Europe.
Michail Leivadiotis, Hybridity, Identity and Micro-cosmopolitanism in the Ionian 19th century
Feedback
Die Edition Romiosini veröffentlicht griechische bzw. griechenlandbezogene Literatur in deutscher Sprache und bietet alle Bücher zur kostenlosen Online-Lektüre an. Gerne würden wir dieses Angebot interaktiv gestalten: Wir freuen uns auf Ihre konstruktive Kritik in Form von Korrektur- oder Verbesserungsvorschlägen unserer Bücher. Ob es um eine Lücke, ein Missverständnis, eine Fehlinterpretation oder um den unvermeidlichen Druckteufel geht, Sie können uns gerne Ihre Bemerkungen schicken!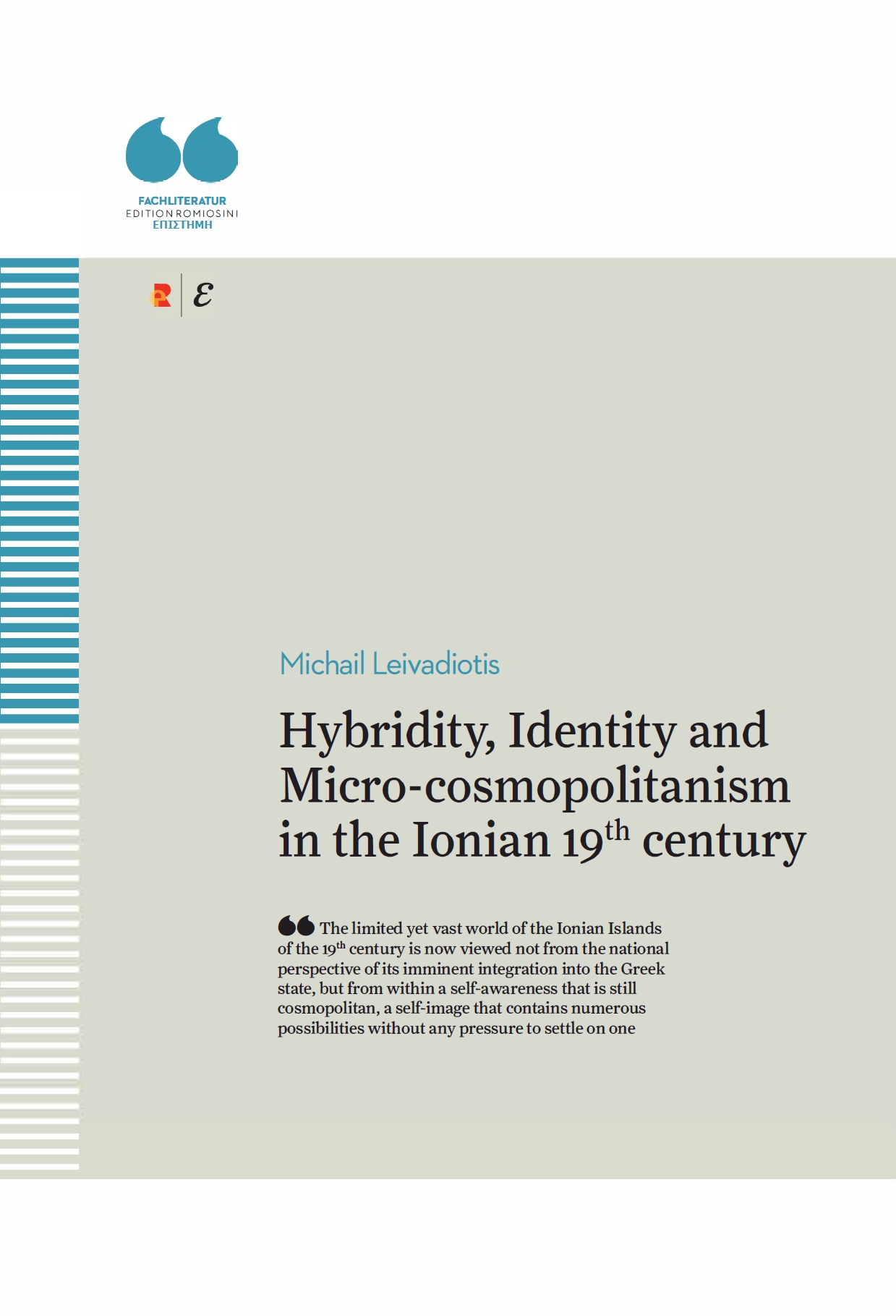 Angaben zur Monografie
ISBN-13 (15)
978-3-946142-92-8
Erstveröffentlichung (11)
2022-12-14